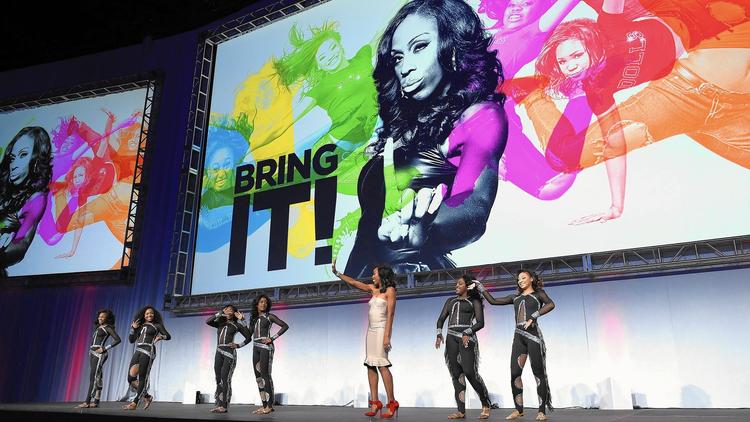 By STEPHEN BATTAGLIO
contact the reporter
The usual array of big-name stars and new shows will be trotted out next week when broadcast and cable networks roll out their fall programming plans at the annual "upfront" presentations for advertisers.
But there will also be a lot of tough talk about TV's rising competitor, online video.
Ad buying agency Magna Global projects that the broadcast and cable networks will take in $20 billion in upfront sales, a 7% decline from last year. Younger viewers going online for their video entertainment would have a lot to do with such a drop.
Digital video ad revenue hit $6 billion in 2014 and is projected to rise to $7.7 billion this year, according to the research firm EMarketer.
The exodus of young viewers from TV to online is showing up in the data from audience measurement service Nielsen. Viewers ages 18 to 34 — a highly desirable group for advertisers to reach as they are still forming buying habits — make up 25.5% of the TV viewing audience, down from 30.5% four years ago, according to a study by ad buying firm Horizon Media.
Many of those viewers are spending more time on sites such as YouTube, which now claims it reaches more viewers in the 18-to-49 age group on mobile devices alone than any single cable network.
INTERACTIVE: Network TV shuffle
With almost evangelical fervor, "The Fault in Our Stars" author John Green told an audience of media buyers at the Theater at Madison Square Garden last month that they risk "losing relevance with an entire generation" if they are not buying ads on YouTube.
The pressure from online video being the new cool kid in town has media buyers privately asking TV networks to make a stronger case for their vitality in the digital age.
"We didn't have to sell the value of television for a long time," said one top sales executive for a large cable network group who was not authorized to speak publicly.
"Now you're seeing the industry on the defensive because clients are enamored with toys under the Christmas tree," the executive said, referring to online video. "What we've heard is 'You have got to help me recommend why I should be putting more money into traditional TV.'"
The networks will attempt to fight the online tide by stressing the efficiency and reach of TV, where an advertiser's message can still hit millions of viewers in a short time even as overall ratings decline. Chances are good the audience at the NBC presentation at Radio City Music Hall on Monday will see a slide that shows how one episode of its hit "The Voice" reaches as many viewers in the 18-to-49 demographic as YouTube does in a month.
There will also be an onslaught of data showing TV audiences' buying habits. CBS is not just No. 1 in viewers, a recent release pointed out, it also leads among "consumers who go to movies, shop at electronic stores, are in the market for a luxury car or SUV, dine out, visit home improvement centers and purchase products across nearly every major product category."
When negotiations get started, networks will drill down even deeper on who is watching.
"There is a lot of need and desire to better define audiences and who they are and how they are able to be reached," said Brent Lightfoot, vice president of Naperville, Ill-based Allant Group, which provides software and data products used to target consumers. "The networks and the content distributors are leading the charge. They've been pushed by online. There's a challenge."
As the leader in total prime-time viewers, CBS is the only media company publicly bullish about its prospects in this year's upfront marketplace.
CBS Chairman and Chief Executive Leslie Moonves said on the company's earnings call Thursday that strong advertiser demand in the "scatter" market — the ads that are bought closer to airtime — are an encouraging sign for the upfront, which is the time sold in advance with ratings guarantees. Networks typically move as much as 80% of their prime-time commercial inventory during the upfront selling season.
As for the competition from online video, Moonves said, "We do not see it affecting the broader-based television advertising platform, we see it affecting the niche cable networks much more."
The TV networks are not likely to get too dismissive of online video when they peddle their new shows next week. ABC parent Walt Disney paid nearly $1 billion for Maker Studios, which distributes most of its original programming over YouTube. NBC recently announced an agreement to stream its broadcast and cable content on AOL and will be looking to sell online viewing in its upfront deals.
Streaming video services such as Netflix, Amazon and Hulu, which are pulling away live or "linear" TV viewers, are also now major buyers of shows produced by the networks' production studios.
It's a key reason why the networks are likely to fill up the schedules with more shows that they own. Prime-time ratings for network shows may never be as big as they once were, but ownership means financial upside from sales to streaming services and foreign broadcasters, where opportunities are also growing as more markets open up.
"The question 'Do we own it?' comes up a lot quicker than it used to when we're setting the schedule," one veteran broadcast executive noted.
The trend is already evident in the new show pickups reportedly made by ABC. All six of its new dramas ordered as of Friday will be owned by the network's studio. The only two freshman scripted ABC shows that didn't get renewed for a second season — sitcom "Cristela" and the procedural police drama "Forever" — came from outside suppliers.